4.3 V6 long motor with alloy timing cover suit latest Volvo or Mercruiser MPI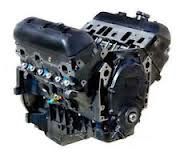 4.3 V6 long motor with alloy timing cover suit latest Volvo or Mercruiser MPI
Please note: Last one - check with us first as advertised elsewhere. 4.3 Vortec V6 long motor with roller camshaft, roller lifters roller rocker gear and balance shaft. This is the same engine shipped to Mercruiser and Volvo Penta then fitted with their ancillaries. NOTE this is an Alloy timing cover version fitted with reluctor wheel and ignition sensor suit current series.
Note:
If you have composite (plastic timing cover) this engine is not interchangeable. 
We can supply all other parts to complete your repower or supply entire bobtail carb or MPFI engines or engine/sterndrive packages or engine /gearbox packages at discounted prices.

Reviews